The demand for healthcare workers is projected to continue to grow nine percent annually through 2030.1 To overcome this challenge, hospitals are seeking guidance from a seasoned rehabilitation expert to help their rehabilitation unit excel within their community while overcoming today's top recruitment and retention challenges.
Learn how partnership can help your hospital drive program optimization and efficiency – leading to improved overall outcomes.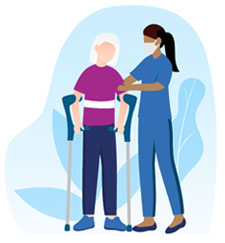 As patient acuity continues to rise in the inpatient setting, the demand for resources has never been higher. However, many programs today are unable to reach their full potential because operational expertise and resources are difficult to develop and maintain. For example, there are a multitude regulation constraints – including the 60% rule and the requirement that patients receive at least three hours of therapy per day, five days per week – making compliance and efficient care delivery more challenging.
Having a team of local and national experts focused on the latest acute rehabilitation trends, quality data and best practices enables hospitals to run highly optimized and efficient units, ultimately requiring less resources.
The hospital is then able to leverage the latest national data trends, while simultaneously applying the key takeaways at the local level. This provides an innovative care approach tailored to the community's specific needs, and equips staff with the latest resources to help them become more successful and adept in their roles.
Having inpatient rehabilitation and other post-acute services available within a system's care continuum helps patients receive the right care, in the right setting at the right time in their recovery journey. This frees up needed acute beds and allows patients to efficiently and effectively progress in their recovery and return home with lower risk of readmission.
Read our white paper, "Rehabilitation Staffing: 5 Advantages of Strategic Partnership," to learn four additional benefits of partnership that can help your hospital successfully, location, hire and retain top talent.
---
References
Boston-Fleischhauer, C., & Critchleey, N. (2021, November). 6 hard truths about the nursing shortage the entire C-suite needs to know. Advisory Board. Retrieved February 8, 2022, from https://www.advisory.com/blog/2021/11/nursing-shortage