Inpatient rehabilitation units have the incredible potential to become high-performing centers of excellence that create greater patient access and enhance the performance of the entire hospital. Moreover, rehabilitation has been proven to be a critical component of a patient's recovery, especially as the medically complex patient population continues to rapidly increase, and skilled nursing facilities can provide only limited patient care. However, many rehabilitation programs do not reach their full potential because operational expertise and resources are difficult to develop and maintain.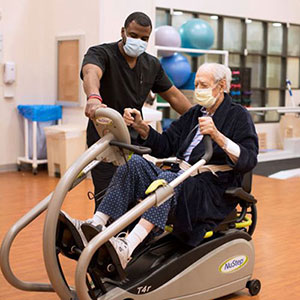 Discover three steps a facility can take to enhance their overall performance, helping to maintain a fully optimized inpatient rehabilitation unit.
Overall Performance
Assess the performance of your inpatient rehabilitation unit

When evaluating your rehabilitation unit's performance, it is crucial to ask a variety of pointed questions. For example, how does your unit's performance compare to high-performing inpatient rehabilitation units? It is important that a hospital analyzes internal admission and discharges, external admissions, internal costs, 60% compliance, key quality metrics including case mix index (CMI) and functional efficiency, CARF/joint commission survey results and financial performance.

Further, ensuring specialized training and orientation for medical directors and staff is critical to a hospital's overall performance.

By assessing rehabilitation unit performance, hospital leaders can gain a better understanding of specific program areas that can be further optimized to improve overall performance.


Evaluate internal and external market demand for rehabilitation services.

Recent research highlights the fact that the Global Rehabilitation Therapy Services Market is expected to continue to rise following the COVID-19 crisis through 2028.1

With this expected growth, it is important to evaluate where patients are going to receive rehabilitation care and where there is an opportunity to keep patients within the system. Understanding internal and external opportunities and implementing strategies to capture downstream business will increase market share and stabilize program volume.


Determine strategic direction for your rehabilitation unit.

A rehabilitation unit provides a seamless transition for patients in need of intensive, quality services and contributes to the hospital's financial performance, while boasting low readmission rates back to acute care or other care settings.

Once you assess your rehabilitation unit's next steps and determine if expansion is feasible, it is crucial to educate and train staff to work together across all departments to not only ensure proper medical information is shared, but to verify a patient is receiving the highest quality care from all areas of the hospital – leading to a better patient experience and improved outcomes.