While the growing aging patient population continues to consume the largest amount of healthcare spend, little focus has been paid on the impact their complex and chronic illnesses have on hospital operations and outcomes.
The Advisory Board released a report detailing the projected impact of hospitalizations depending on population trends.1 These three trends include: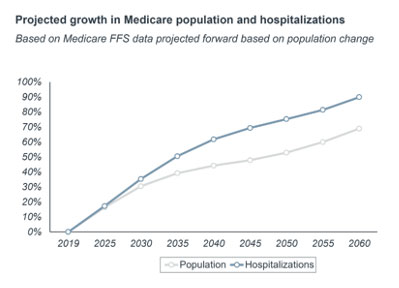 A steady rise in Medicare hospitalizations

"While the population over 65 will grow by two thirds by 2060, hospitalizations will almost double. That's because the older parts of the population, which have more inpatient stays, will grow fastest," states the report.

In order for hospital's to meet this demand, swift action is needed to leverage appropriate resources, open acute bed space, and train and education staff on what is expected for the future of care.


Greater concentration on the 85+ patient population

Similar to the Medicare population, hospitalizations for those ages 85-89 are projected to double while hospitalizations for adults 90 and over will more than triple. The 90+ age group is expected to have the largest impact on inpatient utilization due to the greater scale of care and expertise needed to accommodate their needs.

Additionally, due to their rising chronic illnesses, medical and surgical offerings are going to rise in importance as patients 85 and up are more often and more frequently needing both forms of care.


Inpatient utilizations impact on the entire care continuum

Inpatient care, such as acute rehabilitation, continues to serve as the benchmark of care for aging patient needs due to the quality of care delivered and outcomes achieved. However, as the need for this service line grows, expectations of the entire care continuum will also rise.

"If post-acute capacity doesn't increase to meet rising care needs of the senior population, then hospitals will need to hold patients for longer, increasing the cost burden on hospitals and delaying acute care for patients," the report concludes.
When health systems focus on the needs of the entire care continuum and prioritize the outcomes of those requiring extensive and highly specialized care, the likelihood of hospitalizations within the inpatient setting could decrease and therefore substantially improve overall outcomes for the patient and hospital.
Read the full report here.
To learn how we can help your hospital prepare for these shifting population trends, contact us today.
---
References:
Beckmann, S., & Aurora, L. (2022, May 20). How inpatient utilization will change based on population trends. Advisory Board. Retrieved June 30, 2022, from https://www.advisory.com/blog/2022/05/population-aging