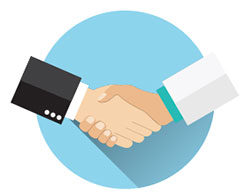 Ongoing inflation concerns, rising clinical labor shortages and a looming recession have health leaders asking the question, "How can my hospital successfully navigate these challenges and come out stronger on the other side?"
In a recent Mercer Executive Outlook study, surveying over 400 CEO and CFOs globally, it was noted that 49% of executives are concerned about the impact inflation will have on their business, with 50% anticipating a struggle to meet current demands using their existing staffing models.1,2
Additionally, a Becker's Hospital Review report details healthcare organizations are increasingly operating with margins in the red or hovering above zero.3 However, c-suite are still looking to increase both the scope and scale of their organizations to meet growing patient needs.2
How have some organization's been able to successfully achieve these goals despite ongoing healthcare challenges? Partnership.
One-third of executives surveyed in the Mercer study note they plan to increase M&A activity over the next 12–15 months, and 42% are evaluating new opportunities that could be leveraged through a JV partnership.2
Additionally, half of the respondents state they intend to integrate new service lines into their existing operations. When a hospital chooses to partner with an experienced provider, they are not only able to develop a new or expand upon existing services but can do so in a cost-effective manner. A win for the hospital and a win for the community.
The right partner will also have specialized expertise, resources and national quality data to help hospitals navigate the ever-changing healthcare landscape, regulatory environment and more while addressing key pain points around staffing, inflation, and financial performance.
You may also be interested in: 5 Financial Benefits of Rehabilitation Partnership
Looking for additional hospital support to effectively serve your patients and community? Contact us to learn about our customizable joint venture or contract management partnership solutions.
---
References:
(2022). Insights from Mercer's Executive Outlook study on the 2023 business climate. https://www.mercer.com/content/dam/mercer/attachments/private/gl-2022-executive-outlook-survey-insights.pdf
Executive survey: Beat the economic storm by focusing on people. Mercer. (2022). Retrieved March 16, 2023, from https://www.mercer.com/our-thinking/how-executives-are-responding-to-economic-shocks-and-talent-shortages.html#contactForm
10 must-read articles for C-suite leaders on current financial ... Becker's Hospital Review. (2023). https://go.beckershospitalreview.com/financewp/10-must-read-articles-for-c-suite-leaders-on-current-financial-headwinds-and-growth-strategies