We began working with our internal teams and partners in 2014 to prepare for the changes mandated through the IMPACT Act that would ultimately go into effect in 2019. In order to effectively transition from the long-used FIM tool to section GG, the IRF industry required a revised strategy with new tools, resources and training to succeed. In preparation for the changes to the new IRF-PAI system and new requirements, we developed a comprehensive training and implementation plan to ensure a smooth transition for all of our hospital partners.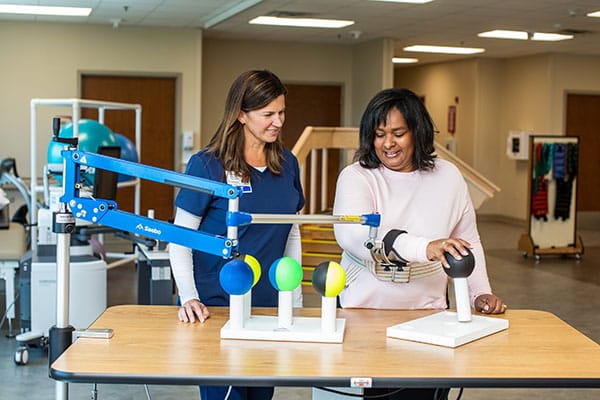 Training Leading Up to Implementation
In the months and weeks leading up to the October 1, 2019 transition to the new IRF-PAI and its revised QI reporting requirements, we deployed a full series of on-site training sessions and webinars. Our priority was to be an industry leader, to ensure accuracy in our rehabilitation hospitals, and to fully support our hospital partners. These sessions were targeted toward a full-range of clinicians, including therapists, nursing staff and pharmacists, to educate them on the new version of the IRF-PAI, changes to the quality measures, new processes and communication models aimed to improve efficiency and accuracy, and new staff responsibilities for reporting QI for determination of CMGs. In addition to real-time training, the webinar series was recorded in order to be utilized for ongoing training and support.
More than 350 rehab leaders attended on-site, day-long trainings across the country specifically targeting program directors and rehab unit nursing leadership. Over the course of the six months leading up to the new IRF-PAI, relying on section GG rather than the FIM instrument, more than 1,000 therapists and nurses also participated in more than a dozen real-time webinar education and training programs.
Throughout this process, we collaborated with Uniform Data Systems (UDS) our data management partner, as they developed new tools and competency training/credentialing for the Quality Indicators. Following our training program, all clinicians completed and passed the QI credentialing exam within the UDS system. This additional step helped ensure that our clinicians had a thorough understanding of each measure and how to most accurately rate it, which is critical to ensuring the accuracy of CMG assignments.
Analytic reports to track outcomes based on QI data have also been developed by UDS and our teams so that our rehab program leaders will have all needed tools to successfully manage patient and program outcomes.
A Seamless Transition
As a result of our robust training and education programs and ongoing communication with clinicians and partner hospitals, the transition to CMS' revised IRF-PAI with new QI reporting requirements was positive and effective.
We appreciate the support and want to thank each of our hospital partners in supporting, setting the expectation and planning for all clinical staff who work within rehab units, and sharing a goal of exceptional outcomes so that, together, we may successfully navigate the new system and drive patient and program success.