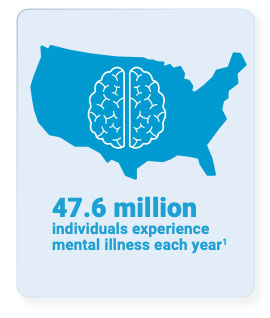 As health systems work to effectively treat the 47.6 million individuals experiencing mental illness each year1, they must first identify one of the key factors contributing to this growing issue – location.
Local communities continue to experience unique challenges that often create substantial obstacles for health systems to provide, and community members to receive, proper behavioral health treatment. Further, approximately one-fifth of the U.S. population lives in local communities, and about one-fifth of those living in local communities, or 6.5 million individuals, have a mental illness.2
Obstacles currently restricting local communities from obtaining proper behavioral health treatment include:
Socioeconomic factors such as higher rates of unemployment and individuals living below the poverty line.
Lack of public acceptance due to the negative stigma surrounding behavioral health treatment.
Delayed public understanding due to lower education rates and restricted access to behavioral health resources, limiting a person's ability to recognize signs of mental illness and understand their care options.3
Although local communities are faced with deeply rooted challenges, opportunities to not only combat these obstacles, but produce positive results for both the hospital and its patients, are becoming more readily available to health systems. These include:3
Development and implementation of electronic medical records (EMRs) to support clinical integration and communication;
Continued integration of educational resources and programs emphasizing the importance of behavioral health treatment;
Expanded use of technology, such as telehealth, to provide psychiatric support among other treatment options; and
Aid from an experienced partner who is dedicated to providing high-quality, tailored behavioral healthcare to benefit a community's specific needs.
Through these tools, health systems can help combat negative stigma surrounding treatment, provide valuable resources for mental and behavioral health education and ultimately help ensure this vital form of care is easily accessible no matter one's location.
Read our white paper, "Behavioral Health: Expanding Needed Access Across Communities" to learn how we can help your hospital address challenges and improve access to vital behavioral health treatment across communities.
---
References
Mental health by the numbers. (2021). Retrieved March 22, 2021, from https://www.nami.org/mhstats#:~:text=20.6%25%20of%20U.S.%20adults%20experienced,2019%20(13.1%20million%20people)
Morales, D. A., Barksdale, C. L., & Beckel-Mitchener, A. C. (2020, May 4). A call to action to address rural mental health disparities. Journal of clinical and translational science. https://www.ncbi.nlm.nih.gov/pmc/articles/PMC7681156/.
Gale, J. A., & Lambert, D. (2006, January 1). Mental Healthcare in Rural Communities: The Once and Future Role of Primary Care. North Carolina Medical Journal. https://www.ncmedicaljournal.com/content/67/1/66.