Approximately 332,000 total hip replacements are performed in the United States each year. Hip replacements are among the most common and effective surgeries in orthopedics, and quality rehabilitation following surgery restores function for patients whose activities have become limited by difficulties with walking.

What causes people to need hip replacements?
One of the most common causes of total hip replacements is osteoarthritis (OA), also called degenerative joint disease (DJD). This condition occurs from wear and tear on the hip joint from either an old injury or previous infection. However, the exact cause of OA is unknown. When OA develops in the hip joint, the smooth cartilage covering the surfaces of the joints breaks down. When the cartilage breaks down, the bones of the joints grind together causing swelling, pain and small bony growths (bone spurs) to develop. The space in between the bones of the joint narrows, and stiffness develops.

Other conditions such as rheumatoid arthritis (swelling of the tissues around the joint), post-traumatic arthritis from an injury and avascular necrosis (poor blood supply to the joint) can also lead to a hip replacement.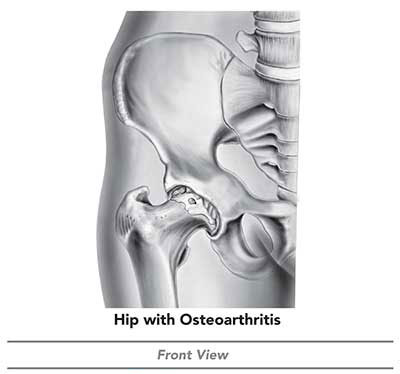 Exactly what is meant by total hip replacement?
Total hip replacement (THR), also called a total hip arthroplasty (THA), is a surgical procedure where worn or damaged surfaces of the hip bones are replaced with artificial parts or surfaces. During surgery, the head of the femur is removed and the acetabulum (cup in the pelvis) is smoothed out. A new artificial head and socket are either cemented or pinned into the femur and pelvis. Because the hip joint has so much movement, joint replacement patients are at risk for dislocating the hip.

Hip replacements can last up to 10 years in 90% of patients.

What can patients expect after a hip replacement?
The purpose of having joint replacement surgery is to fix the hip or knee joint. Following joint replacement surgery, patients can expect:
Pain to be eliminated or decreased
Joints to have better movement
Daily activities to become easier (climbing stairs, walking and getting into and out of a car)
It is possible to be out of bed and walking within a few hours after surgery. Movement and walking help to reduce swelling, reduce the risk of developing blood clots and pneumonia and assist in reducing any pain around the surgical site.

What is the role of rehabilitation after hip replacement surgery following regular post-op care?
Whether a patient recovers in an inpatient rehab setting, nursing facility or at home, physical and occupational therapy will be essential toward recovery and gaining function in the new joint. A physical therapist will evaluate joint range of motion, muscle strength, ability to walk and ability to get in and out of bed as well as on or off surfaces.

Based on this evaluation, a treatment plan will be developed upon the physician's orders and may focus on:

Physical Therapy

A physical therapist will evaluate:
Joint range of motion
Muscle strength
Ability to get in and out of bed as well as on and off other surfaces
Ability to walk
A treatment plan will be developed upon the physician's orders and may focus on:
Strengthening and range of motion exercises
Pain management strategies
Safety precautions
Walking with crutches or a walker. Patients may be able to bear weight on the surgical leg as tolerated and if cleared by the physician.
Getting in and out of bed and on and off other surfaces utilizing appropriate safetyprecautions
Educating family/caregivers on how to assist the patient in addition to safety precautions
An occupational therapist will assess arm strength and range of motion, ability to get on and off the toilet and other surfaces, ability to dress, bathe and perform personal hygiene. The OT will also provide education on the use of adaptive equipment for dressing, bathing and other activities including energy conservation.

Hip replacements help many patients resume activities that may have become limited. If surgery seems like a good option for your patient or loved one, talk to a physician about how a hip replacement could restore mobility.