Co-occurring disorders, or illnesses happening simultaneously such as depression and substance use disorder, can leave individuals feeling lost when it comes to identifying the best treatment options for themselves or loved ones.
As the prevalence of these disorders continue to increase, hospitals are seeking out solutions to help effectively identify and treat patients in need to comprehensive behavioral healthcare.
The problem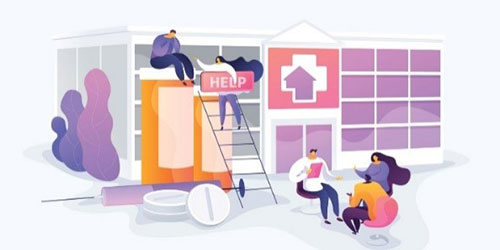 Due to a lack of awareness and education surrounding behavioral health and behavioral health services, individuals have often avoided seeking out this form of treatment. However, behavioral health continues to prove its value for both mental and physical conditions as well as alcohol and drug addictions.
HelpGuide, a global non-profit mental health resource, states in an article that, "In co-occurring disorders, both the mental health issue and the drug or alcohol addiction have their own unique symptoms that may get in the way of your ability to function at work or school, maintain a stable home life and relate to others."
The article also details the delicate balance of managing these co-occurring disorders. If one condition escalates, so can another. For example, when a mental health problem goes untreated, substance use usually gets worse. Similarly, when alcohol or drug abuse increases, mental health illnesses usually increase as well.
Hospitals that have a behavioral health program in place can help patients to more fully understand their current mental health status, whether they have a co-occurring disorder or not. They can also provide resources and expertise to help patients within their community receive effective care that produces long-term positive outcomes both physically and mentally.
Having an adequate behavioral health program in place is especially critical as the Journal of the American Medical Association reports that:
Roughly 50 percent of individuals with severe mental disorders are affected by substance abuse.
37 percent of alcohol abusers and 53 percent of drug abusers also have at least one serious mental illness.
Of all people diagnosed as mentally ill, 29 percent abuse alcohol or drugs.
The solution
As behavioral health continues to be at the forefront of hospital program priorities, especially as this patient population grows in both size and medical complexities, it is crucial to provide education on the impacts of mental health and substance use disorders.
When an individual decides to receive behavioral health treatment, appropriate coping mechanisms can be put in place to begin the recovery process. This can help patients remove alcohol or drugs as the main solution to cope with their previously undiagnosed and/or untreated mental illness, therefore eliminating the cycle of unhealthy self-treatment.
Read the HelpGuide's full article to learn more about co-occurring illnesses, the signs and symptoms and how receiving behavioral healthcare can provide both mental and physical benefits.
---
References:
Melinda. (2022, March 3). Dual diagnosis: Substance abuse and mental health. HelpGuide.org. Retrieved March 8, 2022, from https://www.helpguide.org/articles/addictions/substance-abuse-and-mental-health.htm