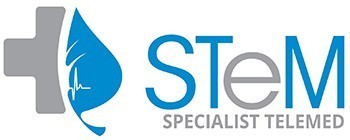 Investment in independently operated specialty clinical workforce and remote care delivery platform will accelerate Specialist TeleMed's growth, improve access to critical healthcare services for communities across the country, and expand LifePoint's diversified healthcare network
Brentwood, TN. and Denver, CO. (June 3, 2022) – LifePoint Health today announced that an affiliate of the company has completed its previously announced transaction to lead an investment in Specialist TeleMed (STeM), a leading multi-specialty telemedicine provider for hospitals, clinics and remote locations worldwide.
"We are pleased to make this investment and align with STeM as a valued partner to help advance our mission of Making Communities Healthier," said David Dill, chairman and chief executive officer (CEO) of LifePoint Health. "By working together with STeM, we will be well positioned to further support this mission by increasing access to high quality specialty care and transform care delivery in the communities we serve."
The transaction is part of LifePoint's enterprise strategy for driving innovation called "LifePoint Forward." Through the LifePoint Forward strategy, the company looks to buy, build and partner with technology companies and solutions that improve quality of care, access to care, the patient experience and patient outcomes. STeM will continue to serve its existing client base of healthcare organizations and further expand its footprint, including within the LifePoint network.
STeM is a physician-led company offering more than 24 inpatient and outpatient specialties for virtual care consultations. STeM partners with healthcare provider organizations nationwide to provide telemedicine solutions 24 hours a day, seven days a week, 365 days a year. STeM will continue to be based in Denver, Colorado, and will continue to be led by Dr. Alexander Mason, CEO of STeM, as well as the company's existing leadership team.
About LifePoint Health
LifePoint Health is a leading healthcare provider that serves patients, clinicians, communities and partner organizations across the healthcare continuum. Driven by a mission of Making Communities Healthier, the company has a growing diversified healthcare delivery network comprised of more than 50,000 dedicated employees, 63 community hospital campuses, more than 30 rehabilitation and behavioral health hospitals and 170 additional sites of care, including managed acute rehabilitation units, outpatient centers and post-acute care facilities. Through its innovation strategy, LifePoint Forward, the company is developing meaningful solutions to enhance quality, increase access to care, and improve value across the LifePoint footprint and communities across the country. For more information, visit www.lifepointhealth.net.
About Specialist TeleMed (STeM)
Specialist TeleMed's vision is to provide access to the highest-quality, value-based healthcare for patients within their communities. For more information, visit specialisttelemed.com.