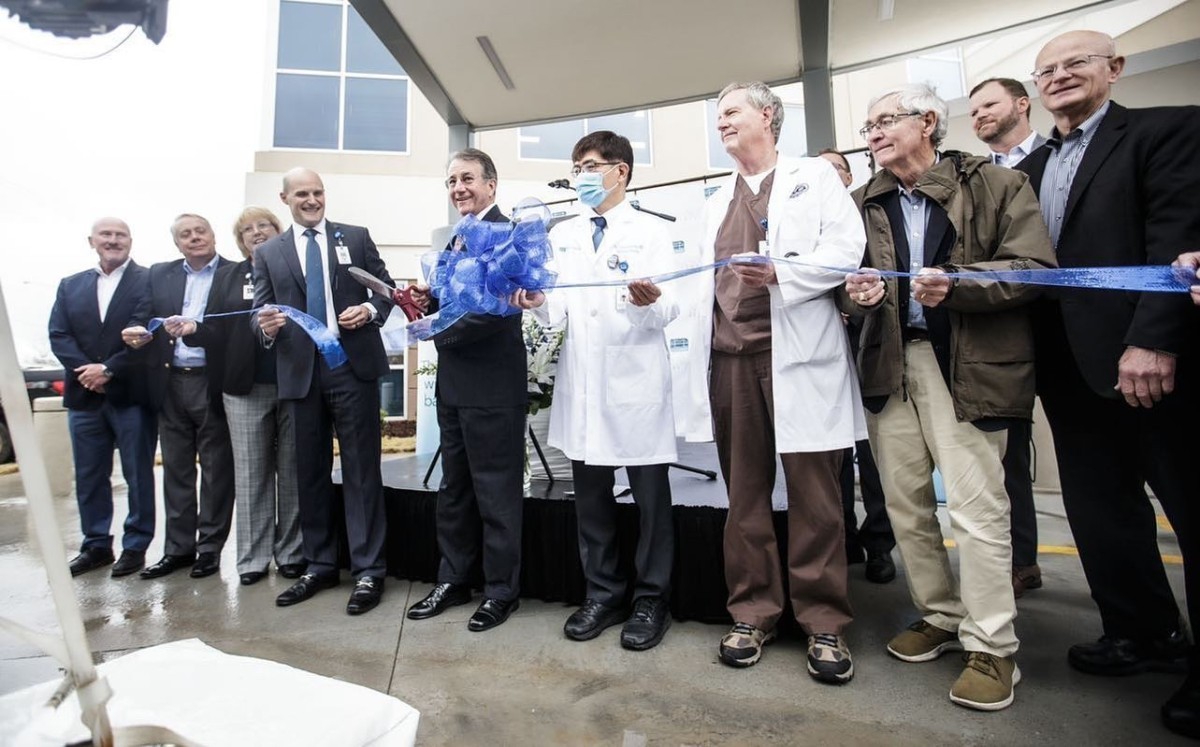 FLORENCE, AL - On Monday, North Alabama Medical Center celebrated the third anniversary of its new facility with an open house and ribbon cutting ceremony to celebrate its new Radiation Oncology and Medical Oncology Services. Guests were invited to tour the North Alabama Cancer Center facility and were guided through the latest technology found within the center by staff.
"This truly is a celebration for our community today. A little more than a year ago, we stood here and broke ground on the beautiful facility now standing behind me," said Russell Pigg, North Alabama market president and chief executive officer of NAMC. "Over the past year, we've been proud to serve our community through a pandemic and to be your home for emergency care, stroke care, critical care, interventional cardiology care and much more. Today we are incredibly proud to now be able to say that we are your home for comprehensive cancer treatment services."
During the event, guests were provided refreshments and encouraged to take guided tours of the new facility. Hospital staff showed guests from room to room, highlighting the center's latest technology, including full-spectrum radiotherapy, a molecular lab, infusion center, chemotherapy treatment center, and on-site pharmacy services.
"We are committed to giving our patients their best chance at remission, recovery, and long-term quality of life," said Stephen McNutt, North Alabama Cancer Center Director. "We will provide a wide range of cancer treatment and support services under one roof. The care will be personalized and more precise."
The North Alabama Cancer Center has a strong team of medical professionals in their line-up, including Vic Liengswangwong, M.D. as Cancer Center medical director and radiation oncologist, Josh Purser as chief therapist, Kim Herring, certified medical dosimetrist and Jacob Haider, Ph.D. as medical physicist.
Starting Jan. 3 2022, J. Patrick Daugherty, M.D., DMin, Ph.D., and Udit Yadav, MBBS, M.D., will be medical oncologists.
"Alongside our team of providers, North Alabama Cancer Center is packed with the latest, newest, most advanced technology you can purchase," said Pigg. "The fact that residents in our community, and surrounding areas will no longer have to drive for excellent cancer care is something to be celebrated."
North Alabama Cancer Center is accepting appointments now and will begin seeing patients Dec. 14.
About North Alabama Medical Center
North Alabama Medical Center opened its doors in 2018, as the replacement facility for Eliza Coffee Memorial Hospital, in Florence, Alabama. North Alabama Medical Center serves as a regional facility with more than 200 physicians on staff who represent more than 42 specialty areas of medicine.
The 263-bed facility offers the community's only open-heart surgery site, a complete line of women's and children's services and a complete line of medical and imaging services.
About LifePoint Health
LifePoint Health is a leading healthcare company dedicated to Making Communities Healthier®. Through its subsidiaries, it provides quality inpatient, outpatient and post-acute services close to home. LifePoint owns and operates community hospitals, regional health systems, physician practices, outpatient centers and post-acute facilities across the country. It is the sole community healthcare provider in the majority of the non-urban communities it serves. More information about the company can be found at www.LifePointHealth.net.