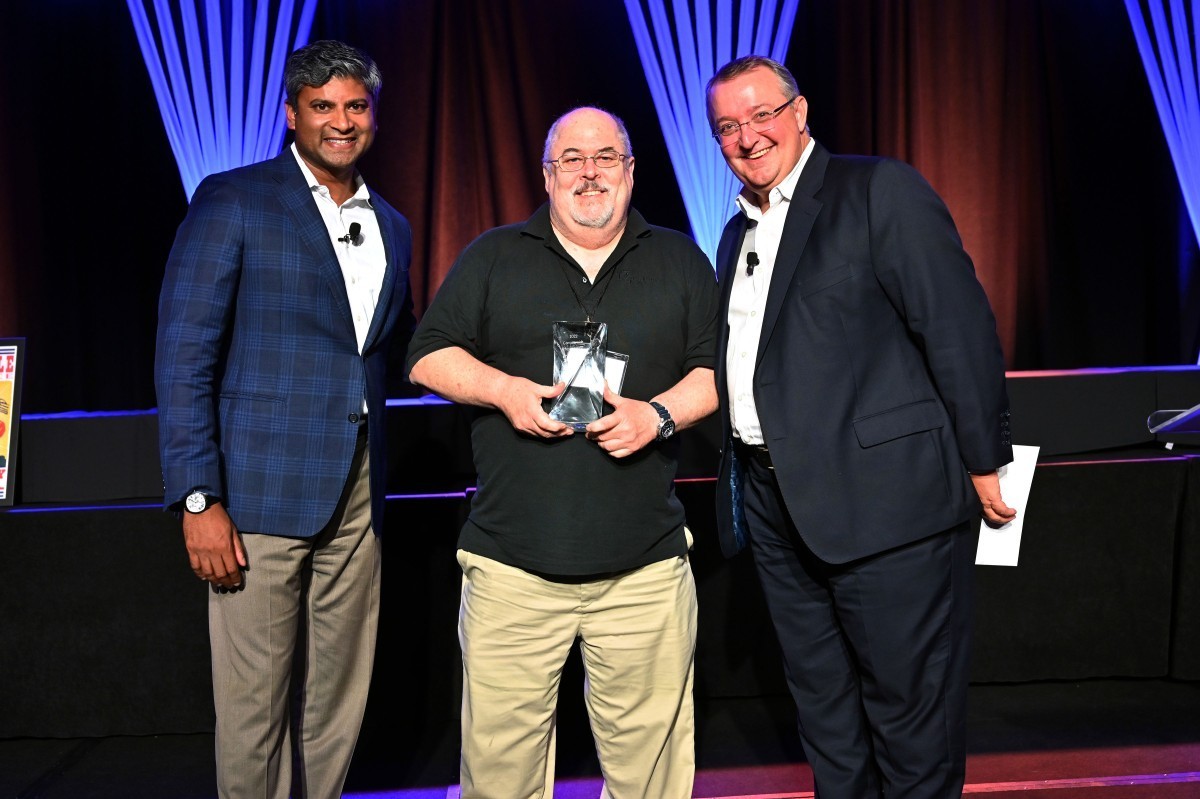 Jeffersonville, In. lab information systems administrator awarded company's highest honor
Brentwood, Tennessee (September 8, 2022) – Lifepoint Health®, a diversified healthcare delivery network dedicated to Making Communities Healthier®, has named Dave Cooper from Clark Memorial Health (CMH) in Jeffersonville, Indiana the recipient of its 2022 companywide Mercy Award. Cooper, who serves as a lab information systems administrator at CMH, was honored for the compassionate care he provides to CMH lab patients and for his steadfast commitment to serving his community members in need.
Lifepoint's companywide Mercy Award is given annually to one of more than 50,000 Lifepoint employees who has profoundly touched the lives of others and embodies the spirit and values upon which the company was founded. It was established in 2001 to honor the life and legacy of the late Scott Mercy, Lifepoint's founding chairman and chief executive officer (CEO), and is the highest honor a Lifepoint employee can receive.
"Dave's expertise and positivity is instrumental in CMH's lab operations, and he is known for being able to put patients at ease and make them feel safe and special," says David Dill, chairman and chief executive officer (CEO) of Lifepoint Health. "He extends that same warmth and compassion to have a significant impact on some of the most vulnerable in his home community. He is a tremendous representative of Scott Mercy's legacy and our mission of Making Communities Healthier."
Dave began his tenure at CMH more than four decades ago as a registered medical technologist. In his current role as the hospital's lab information systems administrator, he has been critical to the hospital's COVID-19 response, helping to ensure that drive-through testing sites, outpatient isolation rooms, labs and the emergency department continue to run efficiently.
His volunteer efforts in his hometown of Louisville, Kentucky have impacted the lives of many for years. For instance, he managed the lab work at the Family Community Free Clinic for five years prior to its closing during the pandemic. And for the past 10 years, he has faithfully volunteered at Casa Latina Worker House, a temporary shelter for immigrant women and children. There, he serves as treasurer, handles the center's maintenance work, contributes food to community dinners, assists with special events and is on call for any issues that may arise. He also regularly serves at the St. John Center for Homeless Men, where he greets guests, answers phones, hands out necessities and helps men find housing, apply for jobs and obtain essential documents like birth certificates and social security cards.
"Dave has a dependable reputation for helping others," says Martin Padgett, chief executive officer at CMH. "Whether caring for our patients, working together with his colleagues to provide safe, quality care or reaching out a helping hand time and again to his community, he is a steady presence of mercy and kindness to those who cross his path. I am so proud to know him and work alongside him at CMH, and thrilled for him to receive this well-deserved honor."
Dave was formally honored during a special awards celebration in Nashville on August 24.
About Clark Memorial Health
Clark Memorial Health, part of the Regional Health Network of Kentucky and Southern Indiana, a Norton Healthcare and Lifepoint Health partnership, is a 236-bed acute care facility located on a 22-acre campus, along with two medical office buildings and an outpatient surgery center, in Jeffersonville, Ind. The hospital offers comprehensive emergent, acute, and elective health care services including cardiology; cancer care; general, orthopedic and thoracic and vascular surgery; imaging and interventional radiology; women's health and obstetrics. Clark Memorial also owns a Diagnostic Imaging Center and manages its growing physician offices through the Clark Medical Group, which employees more than 50 providers.
For more information about Clark Memorial Health, please call (812) 283-6631 or visit clarkmemorial.org.
About Lifepoint Health®
Lifepoint Health is a leading healthcare provider that serves patients, clinicians, communities and partner organizations across the healthcare continuum. Driven by a mission of Making Communities Healthier®, the company has a growing diversified healthcare delivery network comprised of more than 50,000 dedicated employees, 62 community hospital campuses, more than 30 rehabilitation and behavioral health hospitals and 170 additional sites of care, including managed acute rehabilitation units, outpatient centers and post-acute care facilities. Through its innovation strategy, Lifepoint Forward, the company is developing meaningful solutions to enhance quality, increase access to care, and improve value across the Lifepoint footprint and communities across the country. For more information, visit www.lifepointhealth.net.