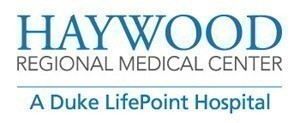 Clyde, N.C. (September 15, 2020) – Haywood Regional Medical Center (HRMC), a Duke LifePoint Hospital, announced that Greg Caples has been named its new chief executive officer (CEO), effective September 30. Caples comes to HRMC from Coliseum Northside Hospital in Macon, Ga., where he has served as CEO for three years. He replaces former CEO Rod Harkleroad who left earlier this year to pursue a leadership opportunity at another Duke LifePoint facility.
"We are excited to welcome Greg to Clyde and to the Haywood Regional family," said Jamie Carter, president of LifePoint Health's Eastern Division, of which HRMC is a part. "Greg is a seasoned healthcare leader who is known for his dedication to quality care and patient safety, and he has a strong history of fostering advances in patient, employee and physician experiences and satisfaction. We are confident he is the ideal person to lead HRMC into the future."
A veteran hospital executive, Caples has served in leadership positions at facilities across the nation for nearly three decades. Prior to joining Coliseum as CEO in 2017, he served in roles including Chief Operating Officer (COO) of Grand Strand Health in Myrtle Beach, SC; COO of TriStar Summit Medical Center in Hermitage, Tenn.; COO of Emory Johns Creek Hospital in Johns Creek, Ga.; and Chief Financial Officer of Eastside Medical Center in Snellville, Ga.
"We are delighted to have Greg join the HRMC team," said Mark Clasby, chair of the HRMC Board of Trustees. "In addition to a great track record as a hospital operator, Greg is known as a committed and engaged community member. We look forward to bringing him on board and working with him to continue to expand HRMC's role in the community and grow the many ways we serve our patients."
Caples earned a B.A. in accounting from The University of West Florida in Pensacola and an M.B.A from The University of Georgia in Athens. He is a Fellow of the American College of Healthcare Executives and has served on the boards of or volunteered for organizations including the American Heart Association, United Way, YMCA, Faith Family Medical Center, Agape and Backpack Ministry. He also has coached nearly 30 youth sports teams.
"I am excited to become part of the HRMC team and the Clyde community," said Caples. "I've enjoyed getting to learn about the hospital and its region and look forward to getting on the ground to find out even more firsthand. I believe we have exciting opportunities to grow HRMC and further expand its impact across Haywood County, and I'm eager to explore these with the hospital's team, board and community."