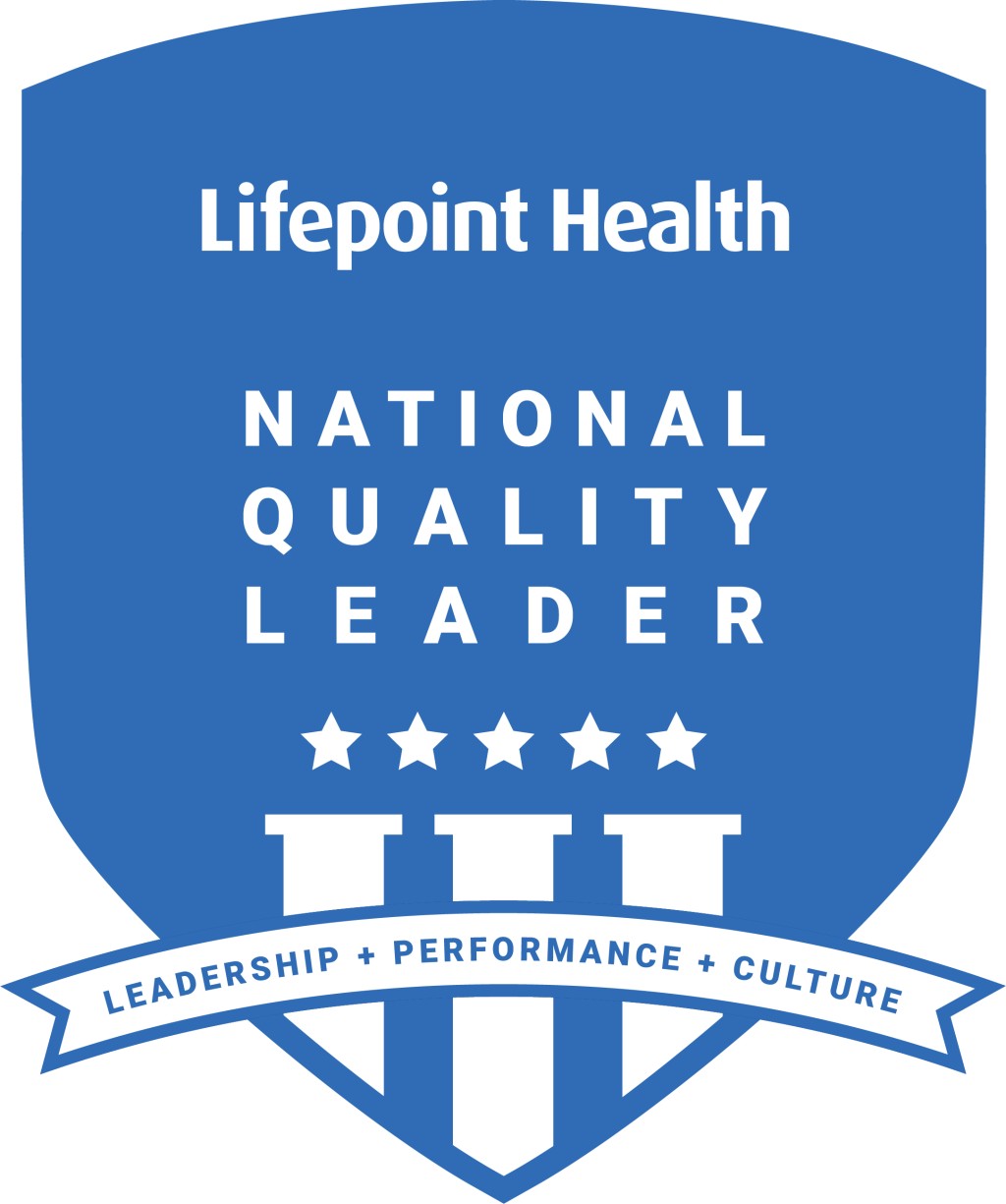 HASTINGS, PA & MEYERSDALE, PA (February 3, 2023) – Conemaugh Miners Medical Center ("Miners") and Conemaugh Meyersdale Medical Center ("Meyersdale") today announced that each has been named a Lifepoint Health National Quality Leader. This designation recognizes hospitals within the Lifepoint Health system that have enrolled in the Lifepoint National Quality Program and succeeded in transforming their culture of safety and achieving high standards of quality care, performance improvement, and patient engagement.
"Delivering the highest quality patient care is at the center of all we do at Miners," said Tim Harclerode, chief executive officer of Conemaugh Miners Medical Center. "Being recognized as a Lifepoint Health National Quality Leader is something this team has worked very hard to achieve, and it took every single person to reach this milestone. The culture of safety we have created here is strengthened every day through the commitment of our providers and employees across all of our departments, and we look forward to continuing to advance how we deliver quality care close to home."
When hospitals enroll in the National Quality Program, they begin working with Lifepoint quality experts to evaluate and strengthen their quality programs and processes. Following an initial evaluation, the hospital creates a plan and begins to employ changes that will help it achieve quality improvement benchmarks and establish long-term solutions to sustain its results.
In addition to evaluating common quality care and patient safety metrics, the Lifepoint National Quality Program focuses on foundational elements required to sustain quality care, including committed leadership, systems to ensure continuous performance and process improvement, and a culture dedicated to safety. Lifepoint Health National Quality Leader designation denotes those hospitals that have achieved a broad range of criteria in each of these areas and demonstrate a capacity to continuously measure and improve quality and patient safety.
"At Lifepoint Health, our mission is making communities healthier®, and quality is a key component of this mission," said Jason Zachariah, executive vice president and chief operating officer of Lifepoint Health. "Throughout the National Quality Program, the Miners and Meyersdale teams have demonstrated a true commitment to quality, patient safety and service. We congratulate these hospitals on this remarkable achievement and well-deserved recognition."
Miners and Meyersdale are the first two Duke LifePoint hospitals to earn National Quality Leader designation, and both join Conemaugh Nason Medical Center, which earned the esteemed designation in 2020.
"A sharp focus on quality and a commitment to building healthier communities has always been at the core of the Duke LifePoint Healthcare partnership," said Harry Phillips, MD, chief medical officer of Duke Network Services at Duke University Health System and chief medical officer of Duke LifePoint Healthcare. "Miners and Meyersdale have made quality an integral part of their culture and operations, and this designation acknowledges the many ways in which they have transformed care in the communities they serve."
To achieve Lifepoint Health National Quality Leader designation, the Miners and Meyersdale hospital teams have worked for several years to implement a number of best practices and launch new initiatives to engage patients and families, enhance patient safety, and improve quality care, including:
Implementing the "Foundational Five" Safety Behaviors, which include conducting daily briefs, debriefs, huddles, executive patient safety rounding and utilization of learning boards;
Hourly patient rounding and bedside shift reporting to help ensure clear communication, reduce the risk of errors, and maintain consistency of care during shift changes; and
Achieving and maintaining American College of Cardiology Chest Pain Accreditation; and much more.
Additionally, Meyersdale was recognized last year as a Top 20 Critical Hospital Best Practice in Quality recipient by the Chartis Center for Rural Health.
"I could not be prouder of the collective efforts of the Meyersdale team and the exceptional patient care that is being delivered each and every day," said Tony Campagna, chief executive officer at Conemaugh Meyersdale Medical Center. "The National Quality Leader designation is an affirmation of the hard work this team has done to deliver high-quality, patient-centric care and the exceptional work they do each day to advance our mission of making communities healthier."
About Conemaugh Health System
Conemaugh Health System, part of Duke LifePoint Healthcare, is the largest healthcare provider in west central Pennsylvania, serving over a half-million patients each year through the Conemaugh Physician Group and Medical Staff, a network of hospitals, specialty clinics, and patient-focused programs. Conemaugh's 3,500+ employees and 350+ physicians are committed to excellence and repeatedly earn state and national recognition for exceptional clinical outcomes. Conemaugh Memorial Medical Center, the system's flagship hospital, provides sophisticated technology, the highest levels of trauma and neonatal intensive care, and a committed history of training tomorrow's physicians, nurses, and allied health providers. For more information on Conemaugh, visit us at Conemaugh.org or follow us on Facebook, LinkedIn, Instagram, and Twitter.