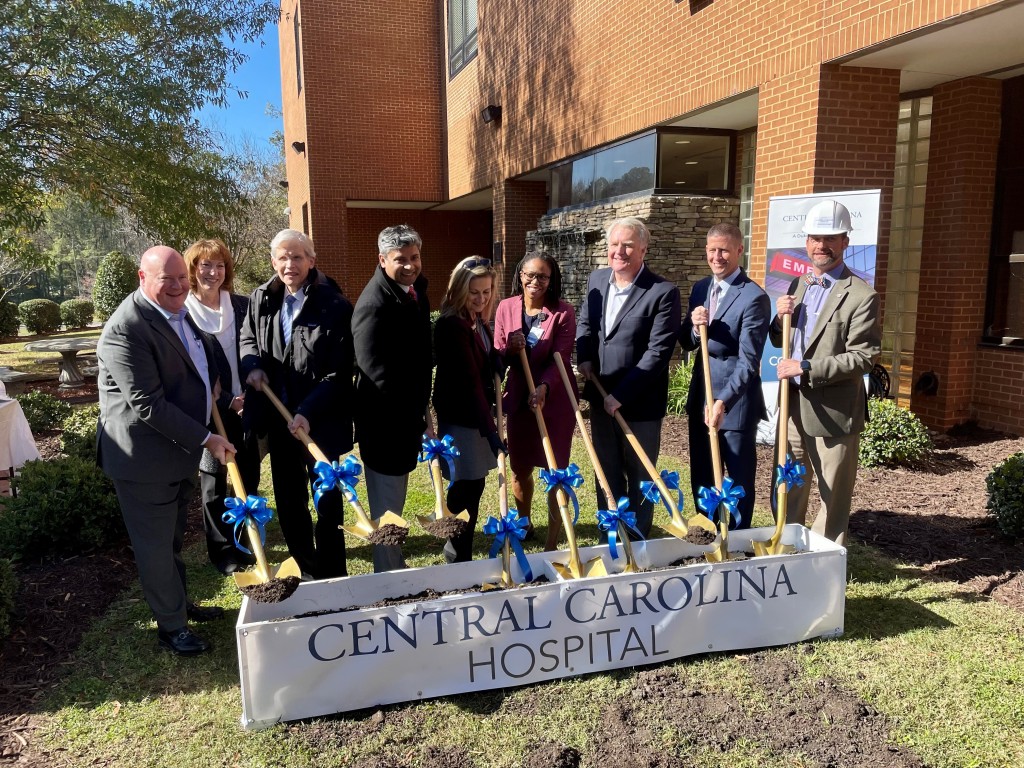 SANFORD, NC (November 18, 2022) – Central Carolina Hospital, a Duke LifePoint Hospital, hosted a groundbreaking ceremony today to mark the renovation and expansion of its emergency department in Sanford, NC. A group of leaders from the hospital, Duke Health and Lifepoint Health gathered with community leaders to celebrate and share more specifics about the project, which is made possible by a $10.6 million investment from Duke LifePoint Healthcare.
"I am so pleased to have you all here with us today as we celebrate an important project that has been in the works for many years," said Chris Fensterle, chief executive officer at CCH. "We expect the need for local emergency care to increase significantly over the next several years. To meet this increased demand for care and as part of our mission of making communities healthier, we are excited to break ground on a true transformation of our emergency department."
The construction will include an interior multi-phased renovation and expansion of the existing 13,500-square-foot emergency department to improve staff and patient flow, expand triage and enhance capacity with additional exam rooms. The project provides multiple technology upgrades, including expanded patient monitoring and nurse call systems to enhance communications and patient safety, as well as security enhancements, and a new patient communications platform.
"This project is just one example of how deeply we care about this community, and how we are always looking for ways to better serve your needs," said Jason Zachariah, FACHE, executive vice president of hospital operations and chief operating officer of Lifepoint Health. "We look forward to the exciting days ahead when we can begin construction and update this facility to the modern, state-of-the-art ER that thousands of Central Carolinians will rely upon for life-saving care."
The renovations, which are slated to begin in the first quarter of 2023, will be completed in phases and will not cause any interruption in emergency care for the community. The architect for the project is Stengel Hill Architecture. The general contractor is Riley Contracting Group.
"As a physician who has practiced at this hospital and within this community for more than twenty years, I am proud to see this important project move forward. It will be transformative for our team, our patients and our community," said Russell Harrell, MD, who serves as EMS Director for Central Carolina Hospital. "I am grateful for our leadership team at Central Carolina Hospital and Duke LifePoint Healthcare for investing in our region, our hospital and most importantly, our patients."
Central Carolina Hospital, which is an accredited chest pain center and designated as an advanced primary stroke center, is the sole provider of emergency services in Lee County. For more information about Central Carolina and its emergency services, please visit CentralCarolinaHospital.com.
About Central Carolina Hospital
Central Carolina Hospital, a Duke LifePoint Hospital, is a 137-bed acute care hospital that serves the health care needs of Lee County and surrounding communities.  With over 120 physicians, the hospital offers a wide range of specialties including cardiology, orthopedics, general surgery, obstetrics, gynecology, otolaryngology, emergency medicine, emergency medical services, gastroenterology, pediatrics, hospitalist services, internal medicine, nephrology, neurology, hematology, urology, podiatry, pulmonary medicine, and wound care and hyperbaric medicine. Hospital services include emergency room, physical and occupational therapy, ophthalmology, cardiac rehabilitation, diagnostic imaging and radiology, inpatient and outpatient surgery, dialysis, maternity services, nutritional counseling by clinical dietitians, and diagnostic cardiac catheterization.
About Duke LifePoint Healthcare
Duke LifePoint Healthcare, a joint venture of Duke Health and Lifepoint Health, was established to build a dynamic network of hospitals and health care providers. The joint venture, which brings together Lifepoint's experience in community-based hospital management and Duke's world-renowned leadership in patient safety and clinical quality systems, is strengthening and improving health care delivery by providing community hospitals the clinical, quality and operational resources they need to grow and prosper.
Media Contact
Liz Harris
Liz.Harris@lpnt.net