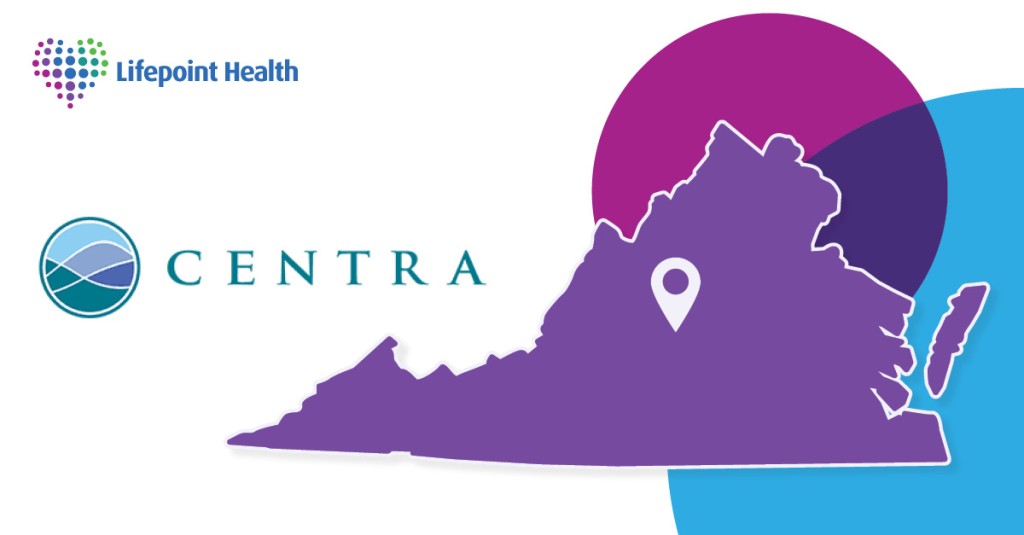 LYNCHBURG, Virginia and BRENTWOOD, Tenn. – Centra has announced it is partnering with Lifepoint Rehabilitation, a business unit of Lifepoint Health, to joint venture a new rehabilitation facility to serve the needs of the greater Lynchburg community. Pending customary regulatory approvals, the planning and construction will begin. This project is estimated to take two years, and the new facility is scheduled to open in 2025.
"Both Centra and Lifepoint Rehabilitation share a strong commitment to clinical excellence and innovation," said Amy Carrier, Centra President and CEO. "This facility will address a significant community need, while expanding the trauma services Centra provides to this region. We are excited to see this partnership come to life in meaningful ways."
The building will be constructed on the parcel of land on Simons Run purchased by Centra in 2017. The new inpatient rehabilitation facility will provide intensive nursing, physical, occupational and speech pathology services for adults recovering from conditions such as stroke, neurological disease, brain or spinal cord injury, and other debilitating illnesses or injuries. This expansion will allow the health system to increase access to inpatient rehabilitation services in the region, addressing a significant community need.
Centra Rehabilitation Hospital will replace the 20-bed unit at Virginia Baptist Hospital. The new facility will be a state-of-the-art, modern, full-service rehabilitation hospital designed with a patient-centered focus to ensure the safest, most therapeutic environment for care. The new facility will include:
50 all-private rooms and full bathrooms, which will include specialty care patient rooms and isolation rooms;
Designated wings on the second floor for both acquired brain injury and stroke patients;
A main therapy suite, which will include a therapy gym, infrastructure for state-of-the-art patient care technology and therapy equipment, rooms for multiple therapy protocols, private therapy rooms, a cooking therapy room, an Activities of Daily Living (ADL) therapy suite/apartment; and
State-of-the-art rehabilitation equipment such as the Bionik InMotion Arm for Neurological Rehabilitation for robotic-assisted shoulder and elbow therapy, a Smart car and Ekso Bionics EksoGT, the first FDA-cleared exoskeleton for stroke and spinal cord injury rehabilitation.
"We are pleased to build a relationship with Centra and increase access to rehabilitation services in the greater Lynchburg region," said Russ Bailey, President, Lifepoint Rehabilitation. "Our partnership and this new facility will increase the community of therapists, nurses and other healthcare professionals dedicated to providing high-quality inpatient rehabilitation services and passionate advocacy for patients in central Virginia."
---
About Centra
Centra is a regional nonprofit healthcare system based in Lynchburg, Virginia. Serving its communities for over three decades, Centra has more than 7,300 caregivers, 500 employed providers and physicians, and a medical staff of nearly 800. Providing care in 50 locations, Centra serves over 500,000 people through critical medical services in central and southern Virginia. Centra is committed to improving the health and quality of life of the communities it serves. For more information, please visit, Centrahealth.com.
Media Contact:
Diane Ludwig
Vice President, Marketing, Communications & PR
Diane.ludwig@centrahealth.com
About Lifepoint Rehabilitation
With more than 30 freestanding inpatient rehabilitation facilities (IRFs) across 18 states, Lifepoint Rehabilitation is a partner of choice for many major hospital systems in the creation of joint venture operations that are industry-leading in clinical and financial outcomes. Through our IRFs and more than 100 acute rehabilitation units (ARUs), Lifepoint Rehabilitation brings proven rehabilitation management and services expertise to help our patients recover and return home quickly from a number of conditions, including strokes, brain injuries, spinal cord injuries, orthopedic injuries, neurological conditions, amputations and trauma. Lifepoint Rehabilitation is a business unit of Brentwood, Tennessee-based Lifepoint Health.
Media Contact:
Aileen Bennett
Assistant Vice President, Communications
Aileen.Bennett@lpnt.net
About Lifepoint Health
Lifepoint Health is a leading healthcare provider that serves patients, clinicians, communities and partner organizations across the healthcare continuum. Driven by a mission of making communities healthier®, the company has a growing diversified healthcare delivery network comprised of more than 50,000 dedicated employees, 62 community hospital campuses, more than 30 rehabilitation and behavioral health hospitals and 170 additional sites of care, including managed acute rehabilitation units, outpatient centers and post-acute care facilities. Through its innovation strategy, Lifepoint Forward, the company is developing meaningful solutions to enhance quality, increase access to care, and improve value across the Lifepoint footprint and communities across the country. For more information about the company, visit www.LifepointHealth.net.