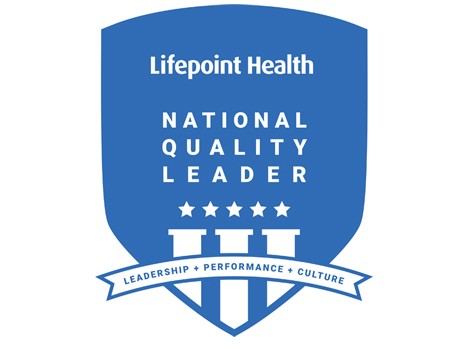 Versailles hospital recognized for achievements in patient and family engagement, quality care and patient safety
Versailles, KY (November 30, 2022) – Bluegrass Community Hospital today announced that it has been named a Lifepoint Health National Quality Leader. This designation recognizes hospitals within the Lifepoint Health system that have enrolled in the Lifepoint National Quality Program (NQP) and succeeded in transforming their culture of safety and achieving high standards of quality care, performance improvement and patient engagement.
"I am incredibly proud of the entire team at Bluegrass Community Hospital and the work that they have done to ensure our patients receive quality care at each and every step of their healthcare journey," said Dave Steitz, chief executive officer of Bluegrass Community Hospital. "While achieving designation as a National Quality Leader is a meaningful milestone in our ongoing quality improvement journey, our efforts to provide even better care for our community won't stop here. We pledge to further ingrain these quality and safety standards into our culture so that we can continue to compassionately care for and support our patients and their families during their times of greatest need."

Bluegrass Community Hospital joins three other Central Kentucky Lifepoint hospitals as the final facility in the market to earn the esteemed National Quality Leader designation. Clark Regional Medical Center in Winchester was the first Lifepoint hospital to earn designation in July 2015, followed by Bourbon Community Hospital in Paris in 2017 and Georgetown Community Hospital in Georgetown in 2018.

"Ensuring the highest quality care for our patients has always been our top priority," said Cliff Wilson, Central Kentucky Lifepoint market president and Georgetown Community Hospital chief executive officer. "Pursuing this important designation across all four of our facilities in Central Kentucky has helped take this commitment to the next level."
Licensed as a critical access hospital, Bluegrass Community Hospital serves Woodford County and the surrounding region by offering a broad range of inpatient, surgical, emergency and imaging services as well as a unique swing bed program. The facility employs over 120 physicians, nurses and staff, and prides itself on delivering personalized care that puts patient minds at ease. To achieve Lifepoint Health National Quality Leader designation, the Bluegrass team worked to implement a number of best practices and launch new initiatives to engage patients and families, enhance patient safety and improve quality care, including:
Growing Swing Bed, or transitions from acute care to skilled care services, by 600 percent in five years;
Achieving and maintaining American College of Cardiology Chest Pain Accreditation;
Expanding rehabilitation services, including physical, occupational and speech therapy;
Adding 3D mammography to imaging offerings and increasing the number of Low Dose Lung CT Cancer Screenings by nearly 200 percent; and
Increasing specialty services in the areas of gastroenterology, interventional pain management and cardiology; and much more.
"We are so proud of the Bluegrass Community Hospital team's commitment to this initiative and their dedication to keeping patients at the center of their care model," said William Haugh, central division president of Lifepoint Health, of which the hospital is a part. "Lifepoint is deeply committed to our mission of making communities healthier®, and Bluegrass epitomizes this by creating a culture where everyone has a voice and plays a critical role in quality."
When hospitals enroll in the National Quality Program, they begin working with Lifepoint quality experts to evaluate and strengthen their quality programs and processes. Following an initial evaluation, the hospital creates a plan and begins to employ changes that will help it achieve quality improvement benchmarks and establish long-term solutions to sustain its results.
In addition to evaluating common quality care and patient safety metrics, the Lifepoint National Quality Program focuses on foundational elements required to sustain quality care, including committed leadership, systems to ensure continuous performance and process improvement, and a culture dedicated to safety. Lifepoint Health National Quality Leader designation denotes those hospitals that have achieved a broad range of criteria in each of these areas and demonstrate a capacity to continuously measure and improve quality and patient safety.
"These results and initiatives are worth celebrating," shared Angie Ingram, director of nursing at Bluegrass Community Hospital. "It is incredibly rewarding to be a part of a culture of safety and quality like that at Bluegrass, and each of our team members plays a crucial role in our success."
About Bluegrass Community Hospital
Bluegrass Community Hospital, part of Lifepoint Health®, provides high-quality healthcare services in Woodford and Anderson Counties of Central Kentucky and is dedicated to making communities healthier. A 25-bed, critical access facility, Bluegrass Community Hospital offers a broad range of inpatient, surgical, emergency and diagnostic services. The hospital has been recognized for its commitment to quality care and patient safety by national organizations such as the American College of Cardiology (Chest Pain Center accreditation), American College of Radiology and Certification Board for Professionals in Patient Safety. For more information about Bluegrass Community Hospital, please call 859-873-3111 or visit BluegrassCommunityHospital.com.
Media Contact:
Savannah Sullivan
Marketing & Communications Director
Savannah.Sullivan@LPNT.net