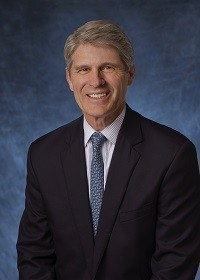 BRENTWOOD, Tenn. (September 26, 2018) – LifePoint Health (NASDAQ: LPNT) and its Board of Directors announced today that current Chairman and Chief Executive Officer (CEO) William F. Carpenter III (Bill) will retire upon completion of the Company's pending merger with RCCH HealthCare Partners, which is anticipated to occur later this year. Following his retirement, Carpenter will join the merged organization's Board of Directors. David Dill, the Company's current president and chief operating officer (COO), will assume the role of CEO for LifePoint upon Carpenter's retirement.
Carpenter has served as CEO since 2006 and was appointed the additional position as chairman of the Board in 2010. He is a founding employee of LifePoint, which was established in 1999. Carpenter led the strategic process that resulted in the transaction that will merge LifePoint with RCCH HealthCare Partners and transition LifePoint to a privately-held company.
"It has been an absolute privilege to lead LifePoint for nearly 13 years, and to be a part of the team since the company's inception almost 20 years ago. I am incredibly proud of all the organization has accomplished during that time," said Carpenter. "We've grown from 23 hospitals in 9 states, to nearly 70 hospitals in 22 states today, to a footprint that will soon span coast to coast, pending completion of our merger with RCCH HealthCare Partners. We've forged partnerships and innovations within the industry that were first of their kind, such as being the only investor-owned system selected by CMS to participate in the Partnership for Patients initiative as a Hospital Engagement Network, and our joint venture partnership with Duke University Health System, Duke LifePoint Healthcare. With David's leadership, I'm confident that LifePoint will continue to advance its mission of Making Communities Healthier in even more remarkable ways. I cannot think of a better leader to take LifePoint into the future and am pleased to have the opportunity to stay engaged through my participation on the Board."
Dill joined LifePoint as executive vice president and chief financial officer in 2007. He was named COO in 2009 and appointed president and COO in 2011. Under Dill's leadership, the Company grew its revenues from $2.6 billion in 2007 to more than $6 billion projected for 2018 and enhanced quality and patient safety across its hospitals, most notably by launching the Company's National Quality Program in collaboration with Duke University Health System.
"It is a tremendous honor to be named CEO of LifePoint Health. When I joined this organization more than 10 years ago, I was attracted to the mission – Making Communities Healthier. Today, I continue to be energized by our mission and the potential to make a positive impact in communities across the country. I thank and commend Bill for his years of leadership," remarked Dill. "I believe that LifePoint is better positioned than ever to be the leader in non-urban healthcare, and to help define what the delivery of community-based healthcare looks like in the future. I am fortunate to be surrounded by one of the most talented teams in the industry that will help take us there. Additionally, I am excited about the opportunity to work with the team at RCCH HealthCare Partners as we embark on the next chapter for the combined company."
Dill will be the first CEO of the merged LifePoint and RCCH HealthCare organization, which will operate under the LifePoint Health name. Following the close of the transaction, LifePoint will operate a diversified portfolio of healthcare assets, including approximately 85 non-urban hospitals in 30 states, regional health systems, physician practices, outpatient centers and post-acute service providers, with leading market positions as the sole community healthcare provider in the majority of the regions it serves.
About LifePoint Health
LifePoint Health® is a leading healthcare company dedicated to Making Communities Healthier®. Through its subsidiaries, it provides quality inpatient, outpatient and post-acute services close to home. LifePoint owns and operates community hospitals, regional health systems, physician practices, outpatient centers, and post-acute facilities in 22 states. It is the sole community healthcare provider in the majority of the non-urban communities it serves. More information about the Company can be found at www.LifePointHealth.net. All references to "LifePoint," "LifePoint Health" or the "Company" used in this release refer to affiliates or subsidiaries of LifePoint Health, Inc.
Media Contact
Michelle Augusty
Vice President, Communications
615-920-7654
Michelle.augusty@lpnt.net
Additional Information and Where to Find It
This communication relates to the proposed merger transaction involving LifePoint. In connection with the proposed merger, LifePoint has filed a preliminary proxy statement and will file a definitive proxy statement and other relevant documents with the Securities and Exchange Commission (the "SEC"). This communication is not a substitute for the proxy statement or any other document that LifePoint may file with the SEC or send to its stockholders in connection with the proposed merger. BEFORE MAKING ANY VOTING DECISION, STOCKHOLDERS OF LIFEPOINT ARE URGED TO READ ALL RELEVANT DOCUMENTS FILED WITH THE SEC, INCLUDING THE PROXY STATEMENT, WHEN THEY BECOME AVAILABLE BECAUSE THEY WILL CONTAIN IMPORTANT INFORMATION ABOUT THE PROPOSED TRANSACTION. Investors and security holders will be able to obtain the proxy statement and other documents filed by LifePoint with the SEC (when available) free of charge at the SEC's website, http://www.sec.gov, and LifePoint's website, www.lifepointhealth.net.
Participants in the Solicitation
LifePoint and its directors and executive officers may be deemed to be participants in the solicitation of proxies from the holders of LifePoint common stock in respect of the proposed transaction. Information about the directors and executive officers of LifePoint is set forth in LifePoint's Annual Report on Form 10-K for the year ended December 31, 2017, filed with the SEC on February 23, 2018, and proxy statement for its 2018 annual meeting of stockholders, filed with the SEC on April 25, 2018. Additional information regarding potential participants in the proxy solicitation and a description of their direct and indirect interests, by security holdings or otherwise, will be contained in the proxy statement and other relevant documents to be filed by LifePoint with the SEC in respect of the proposed transaction.
Forward-Looking Statements
This communication contains certain information, including statements as to the expected timing, completion and effects of the proposed merger involving LifePoint, which may constitute forward-looking statements within the meaning of the safe harbor provisions of the Private Securities Litigation Reform Act of 1995. Such forward-looking statements are subject to risks and uncertainties, and actual results may differ materially. Such forward looking statements include, among others, statements about the benefits of the proposed transaction, including future financial and operating results, plans, objectives, expectations for LifePoint and other statements that are not historical facts. Such statements are based on the current beliefs and expectations of the management of LifePoint and are subject to significant risks and uncertainties outside of LifePoint's control. These risks and uncertainties include the possibility that the anticipated benefits from the proposed transaction will not be realized, or will not be realized within the expected time periods; the occurrence of any event, change or other circumstances that could give rise to termination of the proposed transaction agreement; the failure of LifePoint's stockholders to adopt the merger agreement; operating costs, loss and business disruption (including, without limitation, difficulties in maintaining relationships with employees, customers or suppliers) may be greater than expected following the announcement of the proposed transaction; the retention of certain key employees at LifePoint; risks associated with the disruption of management's attention from ongoing business operations due to the proposed transaction; the inability to obtain necessary regulatory approvals of the proposed transaction or the receipt of such approvals subject to conditions that are not anticipated; the risk that a condition to closing the transaction may not be satisfied on a timely basis or at all; the risk that the proposed transaction fails to close for any other reason; the outcome of any legal proceedings related to the proposed transaction; the parties' ability to meet expectations regarding the timing and completion of the proposed transaction; the impact of the proposed transaction on LifePoint's credit rating; and other risks described in LifePoint's Form 10- K, Form 10-Q and Form 8-K reports filed with the SEC. Readers are cautioned not to place undue reliance on these forward-looking statements, which speak only as of the date hereof. Except as otherwise required by law, LifePoint does not undertake any obligation, and expressly disclaims any obligation, to update, alter or otherwise revise any forward-looking statements, whether written or oral, that may be made from time to time, whether as a result of new information, future events or otherwise.