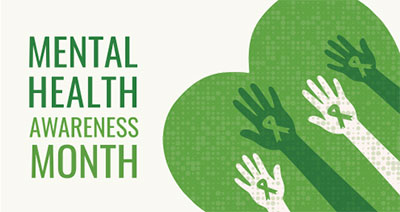 May is Mental Health Awareness Month, a time to raise awareness for those living with behavioral health illnesses and to help reduce the stigma associated with treating addiction and mental health.
It is also a time to highlight the immense impact behavioral health integration within the hospital setting can have on community outcomes, as well as the significant benefit it can provide patients experiencing both physical and mental illnesses.
Why is it so important to integrate behavioral health into the primary care setting? 2,3
As many as 40% of all patients seen in the primary care setting has a mental illness.
27% of Americans will suffer from a substance use disorder during their lifetime.
80% of patients with behavioral health concerns admit to the emergency department (ED) or primary care clinics.
Approximately 67% of patients with behavioral health disorders do not receive the care they need.
68% of adults with mental disorders have comorbid chronic health disorders, and 29% of adults with chronic health disorders have mental health disorders.
Approximately 9.2 million adults in the United States have a co-occurring disorder – or the coexistence of both a mental illness and a substance use disorder.
To effectively addressing this growing need, hospitals are partnering with a focused expert to help obtain and successfully integrate behavioral health resources and best practices. This is especially critical as the demand for these services continues to increase in the coming years – requiring more specialized care and highly-trained staff.
Behavioral health programming also helps hospitals operate more efficiently. Since a majority of behavioral health patients don't have proper access to care, they are turning to EDs for treatment – placing strain on a service line already in high demand and not equipped to take on complex behavioral health conditions.
Through a contract management or joint venture partnership, hospitals can seamlessly add or expand their behavioral health offering to patients across the care continuum – a win for the patient, a win for the hospital and a win for the community.
Interested in growing your hospital's behavioral health offering? Read our white paper, "Effective Hybrid Partnership Solutions to Enhance Hospital Performance and Outcomes" to learn which model can most benefit your hospital.
---
References:
(2020) The Value of Integrated Behavioral Health, https://www.thenationalcouncil.org/wp-content/uploads/2020/01/The_Value_of_Integrated_Behavioral_Health_09.07.18-3.pptx
Co-occurring disorders and other health conditions. SAMHSA. (2023, January). Retrieved March 15, 2023, from https://www.samhsa.gov/medications-substance-use-disorders/medications-counseling-related-conditions/co-occurring-disorders